The SRD Grant
The Social Relief of Distress (SRD) grant also known as the R350 grant, has been a vital lifeline for many individuals and households facing financial hardships.
The SRD grant has opened many doors for South Africans who are struggling to make ends meet. When the SRD payment was first introduced during Covid-19 it was called the Special Relief of Distress grant.
Receiving your R350 grant in your bank account is definitely the easiest payment method - especially since the Post Office stopped paying out the grants. But sometimes you will change your bank account - maybe to a different bank that charges lower fees. So then of course you must inform Sassa of your new bank account details because if they have the wrong banking details you won't get paid.
If you receive SRD payments from the South African Social Security Agency (SASSA), you may need to update your banking details from time to time. Bank details include the bank name, account holder name, and bank account number.
This can be a confusing process, but we have compiled a list of frequently asked questions to provide clarity on the SRD grant banking details change so you can have all your bank details ready before you make the change.
SASSA SRD Bank Details FAQ'S Answered
Why do I need to change my banking details for SRD.SASSA.GOV.ZA?
There are several reasons why you may need to change your banking details for SRD.SASSA.GOV.ZA. For example, you may have opened a new bank account, closed an old one, or simply want to switch to a different bank with different banking details.
It's important to keep your banking details up to date to ensure that your SRD payments are deposited into the correct account and that you receive your payments on time. The last thing you want is for your R350 to be going to someone else!!
How do I change my banking details for SRD.SASSA.GOV.ZA?
To change your banking details for SRD.SASSA.GOV.ZA, you will need to go to the website and navigate to yellow bar under the "SA ID Holders heading" and scroll down to the "How Do I Change My Banking Details" link.
Enter your ID number and an SMS will be sent to you on the cellphone number you used when you first registered with Sassa.
From there, you can enter your new banking information and save the changes. It's important to note that it may take a few days for the changes to take effect, so be sure to make the updates well in advance of your next payment date. If you have any issues or questions, you can contact the SRD.SASSA.GOV.ZA support team for assistance.
What documents do I need to provide to change my banking details?
When changing your banking details for SRD.SASSA.GOV.ZA, you will not need to provide any additional documents. However, you will need to provide accurate and up-to-date information about your new bank account, including the bank name, branch code, account number, and account holder's name.
Remember that Sassa absolutely cannot pay your R350 grant into someone else's bank account - even if they are related to you!
It's important to double-check this information before submitting the changes to avoid any delays or issues with your payments. If you have any questions or concerns about the process, you can contact the SRD.SASSA.GOV.ZA support team for assistance.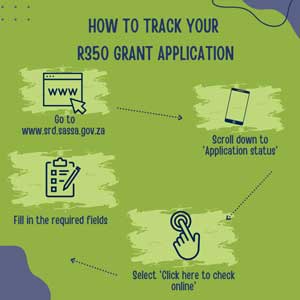 What happens if my payment is delayed or doesn't go through after changing my banking details?
If your payment is delayed or doesn't go through after changing your banking details, it's important to contact the SRD.SASSA.GOV.ZA support team as soon as possible.
They will be able to investigate the issue and provide you with information on what steps to take next to receive your R350 SRD grant. It's also important to double-check that the banking details you provided are accurate and up-to-date, as any errors could cause delays or issues with your payments.
Will my SRD grant be affected if I fail to update my banking details?
If you fail to update your banking details as instructed, it may result in a disruption or delay in receiving your SRD grant payments. It is crucial to comply with the instructions provided by SASSA to avoid any interruption in the disbursement of funds.
Sassa Status Check
All applicants have been encouraged to run a Sassa status check for R350  to ensure they have your details correctly listed. You will submit your ID Number and registered mobile number. This will always be your identifier even if you change your banking details. This is because for Sassa banking details link to your personal account. You can run a Sassa status check as many times as you like.
SRD Banking Details
Once you've done your SASSA status check and your application is successful, the agency will then inform you on when your grant payment can be collected. There are a few options which SRD grant beneficiaries can choose from to collect their grant payments including via your bank account. 
SRD grant beneficiaries have the option of having their grants paid directly into their bank account. This is a convenient grant payment method as beneficiaries can access their money at any time after the payment was made by Sassa. 
Here are some of the other options:
CashSend Services: Should beneficiaries not have a bank account, they can also receive your R350 grant through a CashSend.
Beneficiaries will have to use their ID numbers and phone numbers to access their grant money. You must have a cellphone with a registered cellphone number and proof of identification. 
Retail outlets: Sassa grants are paid to selected retailers around the country. Beneficiaries can withdraw their money at any time when the retail outlet is operational. Pick n Pay, Shoprite, Boxer stores, Usave stores and Checkers all distribute social grants.
Shoprite Group: The Shoprite Group has now made it possible for R350 grant holders to fetch their SRD grant payments at any of their 1 286 supermarkets across South Africa, which includes Checkers, USave, OK and Shoprite stores. 
Future of SASSA R350 Grant
Finance Minister Enoch Godongwana announced an extension of the financial support from the R350 grant until March 2024.
Can You Appeal Your SRD Grant Status?
If your R350 SRD grant application or SASSA status check was unsuccessful there is an opportunity for you to submit an appeal application, where Sassa will re-evaluate your grant application. 
Here Is How To Submit Your R350 Grant Appeal
Step 1: Visit The ITSAA Website
Step 2: Enter Your Identification Number
Step 3: Enter The Cell Phone Number You Used During The Application Process
Step 4: Click Send "Pin"
Step 5: Once you receive the pin, you will be required to insert it and click "Submit"
Step 6: Select the month that you are appealing for
Step 7: Secret the drop-down arrow to choose the reason for your appeal application from the options provided
Step 8: Click "Submit" to complete the appeal application process
Once individuals have submitted their appeal application, the ITSAA then uses various databases to verify information provided to verify their eligibility for the grant. The databases are used to confirm personal information and income information as well.
Applicants are advised that they will receive the outcome of their appeal applications between 60 to 90 days from when it was submitted. The decision made by the ITSAA are considered final.
How To Track Your R350 Grant Appeal
In order to check  your SRD grant appeal you are required to do a SASSA status check on your appeal to make sure that you appeal hasn't got lost in the Sassa system.
To check on your SASSA grant appeal status you need to have your ID number with you. This is how you research your grant appeal and find out your grant appeal status.
Go to Sassa Appeals Website
Enter ID number
Enter telephone number
Track appeal
​​​​​​You can also call the Sassa Call Centre on their cellphone number which is 0800 601 011. If you've already submitted an appeal, you don't need to submit another or contact the Sassa office.
It is important to note that the outcome of your appeal will be relayed through a confirmation message via SMS, this is why it is important to provide the correct contact details.